I'm Johnny and
I don't give a fuck
by Andy Healy (story)
and Colonel Moutarde

56 pages, 12 Mb
right mouse click on "download" > "safe link as "




All the stories you are about to read have been published in a fanzine in 1997. Andy Healey began by telling about his job as a bike messenger and why he quit. He also invited people who didn't believe his stories were true to check the facts with his mother (full adress included).
French comic-book artist and illustrator Colonel Moutarde did not disturb the brave woman and prefered to imagine Andy, his relatives, his friends, the Niagara Falls and Vancouver. The original text as been kept in order to stay as close as possible to the zine spirit. A few dialogues have been added. All the pages have been drawn without Andy's participation.



Don't have the Acrobat Reader?
Download its latest version for free at www.adobe.com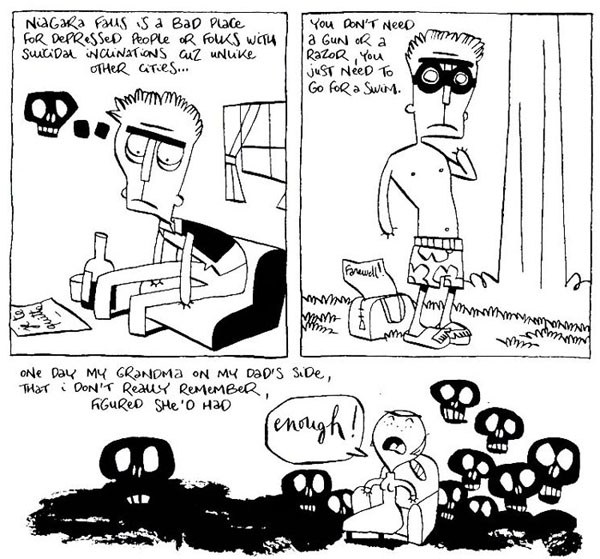 Colonel Moutarde is a french illustrator and comic-book artist who works mainly for women press and children magazines. «I'm Johnny and I don't give a fuck» is his second full-length comic book. Don't tell anyone, but he is a woman. http://littlemoutarde.tumblr.com/
Andy Healey is the author of the «I'm Johnny and I don't give a fuck» zine series. He was also bass player in the punk band Submission Hold. He's been living in Vancouver for 25 years now. He has a 12 year old son and enjoy spending time in the mountains.
"I'm Johnny and I Don't Give a Fuck" started as a zine series in 1993. No back issues of issue #1 were available as Andy's dog ate the originals. All the stories from this comic book were adapted after the 67-pages A6 xeroxed #2 issue, sold in 1996 for $1.00 ($2.00 by the mail), possible trade against Niagara Falls souvenirs.